A response to the gospel should be a heart to give.  Understanding that Jesus first gave his own life (John 3:16) our response should to also give of resources, time, energy and finances.  Jesus spoke about money more than any other topic, even connecting our hearts to our money.  (Matthew 6:21)  Learning to give financially develops our faith as we learn to trust God as the ultimate provider in every area of our lives including our finances.  (Deuteronomy 8:18)
For your convenience we have created a few ways that you can give.
1.  Mail
Please make checks payable to Victory Aiea.
Victory Aiea
PO Box 1777
Aiea, Hi 96701
2.  Automatic Bill Pay
Many banks offer their customers the ability to have checks automatically drafted by their bank and mailed to the recipient (such as the church) on a recurring basis. Please contact your personal bank if you wish to pursue this option to set up Victory Aiea as a new payee.
3.  Online
Simply click this donate button and you will be directed to a secure website that will allow you to give.  Pay Pal will allow you to give either a one time gift or a reoccurring gift.  Simply indicate a reoccurring gift by check the box next to the amount of your gift.
Venmo Giving:
https://venmo.com/code?user_id=3337582729494528830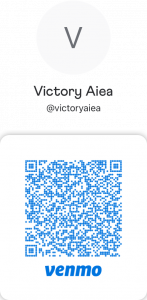 Pay Pal Giving:
No Pay Pal? No problem!
Click here to give to Victory Aiea.